"phenomenal musicianship" (Sydney Morning Herald, 1995)
"sonic powerscapes" (Sydney Morning Herald, 1996)
"incredible interaction" (The Wire, 1996)
"cutting edge..eclectic..consummate" (British Broadcasting Corp. Radio3, 1997)
"ever challenging" (Sydney Morning Herald, 2000)
"sparks of genius" (Artforce, 2000)
"continue to push the parameters of music and multimedia...probing the nature of performance art" (Sydney Morning Herald, October 2004)
"intelligent musical innovation .... the sound world took the ear into alluring and unexplored domains" (Sydney Morning Herald, September 2005)

SELECTED austraLYSIS ACTIVITIES 2009-2004 : WORK of austraLYSIS and its members;plus selected NEWS and RESPONSES
(for information about older work, 1999-2003, go here.)
PERFORMANCES AND WORK
austraLYSIS is currently working on the formation of a new MultiRhythm Band, an acoustic jazz counterpart to the longstanding austraLYSIS Electroband. Amongst other creative efforts are the further development of a performance platform for real-time text generationa and manipulation, written in Python in collaboration with member David Worrall; a new album of digital processing performances by Elliott Dalgleish (saxophones) and Roger Dean (piano and processing), recorded in late 2007; and on completion of Dean's new multi-piano and piano-computer interactive album. austraLYSIS is also working on establishing simpler surround-sound techniques which can be readily transported to one-off events, as well as to event series where we can install our system fully. We also continue to work on networking possibilities for the interactive and improvised performance-sound of the austraLYSIS Electroband.
Forthcoming publications resulting from austraLYSIS efforts include the Oxford Companion to Computer Music (edited by Roger Dean, completed and due 2009 from Oxford University Press); and Practice-led research, Research-led practice in the creative arts (edited by Hazel Smith and Roger Dean, completed and due 2009 from Edinburgh University Press).
austraLYSIS' recent major creations were presented in the New Music Network series in Sydney, on December 6th, 2008 at the Conservatorium of Music. Substantial intermedia pieces by Daniel Blinkhorn were included, together with a tribute to the late Tristram Cary. A pdf of the program notes is here. The next major set will appear in the 2009 New Music Network Series in Sydney.
Joy Wallace (Charles Sturt University) launched Hazel Smith's 2008 Tinfish Press (USA) volume of poetry and intermedia works (book and CDR), The Erotics of Georgraphy, in Melbourne in July, at an international poetry conference. The cd-r contains extensive work by Hazel with austraLYSIS.
At the Australasian Computer Music Conference, Sydney Conservatorium, July 2008, the keynote composers and speakers were Robert Normandeau (Canada), and Roger Dean. Normandeau presented some powerful multichannel electroacoustic works in his keynote concert, and was an engaging speaker. Roger talked on computation and cognition of computer music, and with austraLYSIS Electroband gave a keynote performance on July 10, 18.00. Dean also used the 16 speaker system to diffuse his 2002 piece 'PianoStones', taking advantage of the elevated speakers and both front and rear sub-woofers. Dean's 'The peace of Molonglo', a 4-channel ea work, was released by the Australasian Computer Music Association on its 2008 double cd, 'Unfenced', together with 14 other stimulating works.
Hazel Smith and Roger Dean created presented a new text and sound work 'Ubasuteyama' in the April 2008 Aurora Festival (Western Sydney: 18th April). The piece was premiered by austraLYSIS, and recorded for Wirripang, who released it on the double CD 'Music of the Spirits'. The piece utilised a new microtonal scale devised by Dean, and the subject of an article to be published in the research book which results from the festival (Australian Music Centre, in press).
Roger Dean has written new pieces for Rob Nairn, double bass, USA, and for Chaconne Brass Quintet UK, to be premiered and recorded in early 2008. For Rob, he has written Harmonic Moves, for bass and piano, and this was recorded in May 2008. For Chaconne, he has written SnowTalk, with prerecorded electroacoustic sound including text by Hazel Smith.
austraLYSIS, Roger Dean with Tony Buck and Sandy Evans on CD, were heard on Gerry Koster's 'Jazz up Late' on ABC March 7 2008, juxtaposed also with re-releases from Graham Collier, of whom Dean is a long standing colleague, appearing on the recent Cuneiform release of a 1983 'Hoarded Dreams' recording, with Dean, Schoof, Stanko, Surman, Wheeler, and many others.
austraLYSIS' recent major Sydney event was at the Sydney Conservatorium of Music at 20.00 on December 1 2007, in the New Music Network series. Entitled 'Perusing the Rhizome', the event will including new rhizomatic music and image by RogerDean, new text performance work by Hazel Smith, improvisation by austraLYSIS, and premieres of acousmatic work by Robert Sazdov and Rajmil Fischman (UK). See the programme pdf.
austraLYSIS' new thirty minute sound technodrama The Afterlives of Betsy Scott, by Hazel Smith and Roger Dean was broadcast on ABC Radio National's 'Airplay' on Sunday 21October 2007 at 15.00, and again on 26 at 21.00. After this it was archived for online listening via the Airplay site at Radio National. A related electroacoustic work, Hanging Betsy, has been released on the Meapsoft website of Columbia University.
Dean performed at the Guelph Jazz Festival, September 2007, with a multinational improvisers ensemble, including Pauline Oliveros (USA). He also performed with Michael Atherton and Garth Paine, of SynC, at the University of Western Sydney's Kingswood campus, school of communication arts, in October 2007, and two extracts of this performance are on YouTube. Extract 1; --- Extract 2.
Roger Dean's latest CD release (2007) is as pianist with Graham Collier's Hoarded Dreams band, from 1983, on Cuneiform Records (USA), Rune 252. This is an 'all star' band with Ted Curson, Tomas Stanko, Manfred Schoof, Kenny Wheeler (trumpets), John Surman (saxophones), and Roger's major improvising partner of the time, Ashley Brown (drums). The Cuneiform webpage is here as pdf.
Our latest release on Tall Poppies Sonic Stones, TP 182, was launched on October 7 2006 at our performance at the Sydney Conservatorium. Here are PDFs of the sleeve notes and cover image. Sonic Stones represents two aspects of austraLYSIS innovative work in computer mediated sound. One piece, Piano Stones, is an elaborate completed composed work, made entirely in the digital domain, though using and transforming natural stone sounds, and pre-recorded piano played by Dean. The work transits from the sound of the piano almost continuously to the sound of stones, and has strong references to the work of influential jazz pianist Bill Evans. The other piece Memeing ex Cathedra, is almost an hour long, and presents extended live computer-interactive improvisation, and was originally performed direct to air in a day long international web cast. Multiple layers of rhythmic and textural process are superimposed, including elements from drum and bass, noise music, sampled keyboard and other diverse sounds. The whole is integrated into a large evolving structure. The CD is the sixth on Tall Poppies by austraLYSIS, continuing their tradition of radical change and challenge: it is quite different from their previous work on the label. The performers are Director and Founder, Roger Dean, and long term collaborator Greg White, who both have extensive track records in composed and improvised music internationally. Additionally, Dean is intensively involved in research in music computation and cognition, while White is active as a music educator and as a film and media composer and sound designer.
The streaming video of Roger Dean's inaugural professorial lecture (October 2007) on joining the MARCS Auditory Laboratories, University of Western Sydney as full time research professor is here. It contains an introductory computer interactive performance of a rhizomatic and algorithmic piece by Dean.
SOME EARLIER BROADCASTS
ABC Broadcast Thursday 21 April 2005, ABC Classic FM, between 20.00 and 21.30, In Performance. First segment was Kuss Quartet, second austraLYSIS. For details, see the abc web site.
You could also hear Roger Dean performing keyboards with the Graham Collier International Celebration Band, at the London Jazz Festival, Nov 2004, on line at BBC Radio 3. The Jazz on 3 broadcast of 15 April 2005 contained a large part of a Purcell Room concert they gave. It streamed from their site. Go to the link referring to 'all jazz genre programmes', and choose the Jazz on 3 programme for such streaming items.
RECENT PUBLICATIONS
Hazel Smith's new book 'The Writing Experiment: strategies for innovative creative writing' (2005)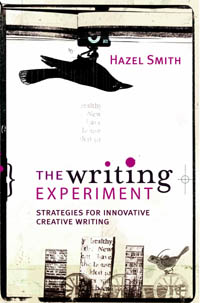 is available in Australia in bookshops now. It will reach bookshops in the UK mid-year, and bookshops in the US in about October, but can be ordered at any time from the Allen and Unwin website. The book is designed for tertiary level students studying creative writing, and also for the general reader. It takes an experimental approach, stresses step-by-step strategies, and uses literary and cultural theory to illuminate the process of writing. It explores many different types of writing, including fiction, poetry, mixed genre writing, writing for performance and writing for new media. Each chapter is illustrated with extensive student and published examples. The book also has an an accompanying website with additional information and examples of performance and multimedia works. The link to the book's website is here. The Australian Book Review (May 2005) has a glowing review, noting Hazel as a 'major poet', and describing the book as an innovative contribution, the first of its kind.
Roger Dean's "Sounds from the Corner", a book on Australian jazz and its embodiment on CD, has been published in August 2005 by the Australian Music Centre, from whom it may be purchased.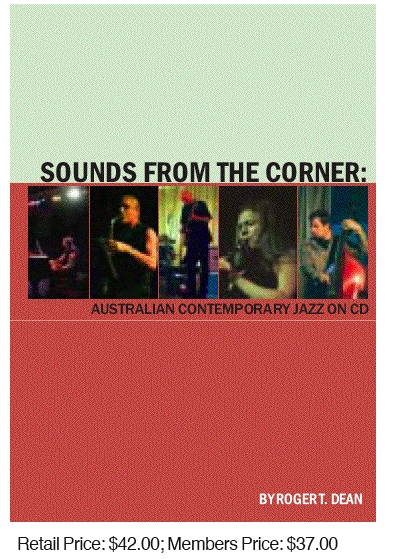 John Shand, writing in Limelight (2005), the magazine about ABC broadcasting, reviews the book positively, saying that 'it provides a marvellous insight into the art... with Dean... himself a prominent improviser, providing subjective commentary. There is also an interesting essay on the state of play...'
NoiseSpeech is the term for a new category of noise art, introduced by austraLYSIS. It is the subject of an article by Roger Dean, released early in 2005 by the international refereed Journal of New Media and Culture (available freely on line.) A new sound work by Dean and austraLYSIS, Speak NoiseSpeech, a prototype of a series generating NoiseSpeech from many different sources, by a range of techniques is available there too, as wav file, which will stream on some browsers, and be downloaded on others. Computer Music Journal is now publishing sound samples and an article on this, covering empirical cognitive studies which demonstrate the perceptual reality of NoiseSpeech (Vol 32/4 (2008), DVD with sound samples; 33/1(2009) the research article), and confirms its interest and applicability by composers.
EARLIER EVENTS 2004 – 2007
Hazel Smith and Roger Dean have been commissioned by the ABC for a radio drama focusing on Elizabeth Scott, the first woman to be hanged in Australia, for a 19th century murder in Victoria (2008). Their work 'The Space of History', a 9 minute text and sound performance piece, has been published by PENNSOUND, the international archive of such work, which succeeded the famous UBUWeb.The piece is in the 'singles' section of the site, and is a high quality mp3 download.
David Worrall won a 2007Australia Council grant in the Sounding Out call for new musical instrument construction: he is working on an instrument which speaks in Australian pronunciation, relevant to a variety of his own and austraLYSIS projects
Hazel Smith and Roger Dean contributed to the Cultural Studies Association of Australasia Conference at the University of Canberra in December 2006 on the theme of UnAustralia. Go to the UnAustralia gallery website to hear MidAir Conversations, a 4-channel audio text piece, by Hazel Smith and Roger Dean. Dean also gave a Keynote performance in the Boilerhouse theatre of the University.
Roger Dean presented at the Music and Postmodern Cultural Theory international conference at the University of Melbourne, 5 December 2006, on the subject of 'Rhizomatic Music and Musicology'. He also chaired a keynote presentation by US visitor Judith Lochhead.
austraLYSIS at the Sydney Conservatorium of Music, October 7 2006, in the New Music Network series: Performing the Interfaces, with guest performer Garth Paine. The program notes are here. The event was viewed by Peter McAllum of the Sydney Morning Herald (10 Oct 2006) as follows: 'Creating sounds at the whim of one's imagination by touching a pen on a computer pad and then flinging them off to bounce around in three-dimensional space, as easily as one might flick a line on a sketch pad, may sound like the stuff of the future but it is what Garth Paine and austraLYSIS were doing in Facing Off.' '... while [Dean's] Ligating the Rhizome built on a complex web-like structure, evolved into an intriguing star shower of glittering marimba-like sounds at the close. Smith's Mid-air Conversations was a tour de force of three-dimensional sound interaction, as a web of different kinds of spoken dialogues interrupted and transformed each other.'
Lengthy coverage of Dean's jazz activities is included in a new book 'Cool Capital' (2006) about jazz in Canberra 1925-2005, by John Sharpe. This was covered by the University's newspaper, Monitor.
Roger Dean presented on 'Interactive systems for structuring sound improvisation' at the Human Communications Sciences Network 'Workshop on Interactive Performance Systems', at Macquarie University, 16 December 2005. He also presented a keynote talk on 'Becoming-Communication: Some Collisions in Conceptualising communication in Humanities, the Arts and Cultural studies' at the Human Communication Sciences Network conference at University of New England, Armidale, December 8-9 2005. The conference was organised by the Languages and Cognition Research Centre at UNE, and supported by the ARC-funded Human Communication Sciences Network.
For those in Canberra, ACT: Thursday 13th October 2005, 20.00. A sound event at the University of Canberra (by acceptance only) featuring John Richards (UK), Garth Paine (UWS, Australia), with Stephen Barrass, Roger Dean, Mitchell Whitelaw and David Worrall (of the Sonic Communications Research Group at the University).
Roger Dean spoke in Queensland Conservatorium's research series, 'The Intangibles in Music: Beyond the 'X-Factor' ' on October 11, 2005 18.00, at the Ian Hanger Recital Hall, Queensland Conservatorium. Free admission. The series is coordinated by Huib Schippers, the Director of the Conservatorium Research Centre, and includes notable speakers such as Tony Gould, Peter Sculthorpe, and Kim Walker. Roger (piano) also imrpovised with Elliott Dalgleish (saxophones) at the same venue at 13.05 that day (until 14.00).
Video excerpts of austraLYSIS' 2005 performance of 'Time, The Magician' are available with a new article in the M/C journal. This requires Quicktime 7 (to permit the H264 compression). If you have difficulties getting the video to display in the journal page try going direct to the movie url and use Firefox as your browser.
austraLYSIS at the Sydney Conservatorium of Music, 20.00 24 September 2005, in the New Music Network 2005 series. (S)pacing the Sound: Algorithmic Mirages. The flyer for the event is here. A pdf of the series flyer is here. The program notes are here. The event was viewed by Peter McAllum of the Sydney Morning Herald (27 Sept 2005) as 'intelligent musical innovation', in which the 'sound world took the ear into alluring and unexplored domains'.
Kinetic Energy Theatre company presented Undiscovered Land Voyage 2 at St Luke's Hallin Sydney between September 22 and October 1 2006, with music by Dean. They also presented Who Dies? September 16-25 2005. This innovative piece, premiered 1990 at the Edge in Sydney, uses an electronic score from Roger Dean.
austraLYSIS, together with the Song Company, contributed parts of their recording of Colin Bright's Rainbow Warrior to the Greenpeace DVD 'The Boat and The Bomb', a documentary released 2005.
Dr Freya Bailes presented research on cognition of computer-generated music, done with Roger Dean at the University of Canberra Sonic Communications Research Group, at the 2nd International Conference of the Asia Pacific Society for the Cognitive Science of Music, Korea, August 2005.
In July 2005 Hazel Smith gave a paper theorising the work of austraLYSIS, "soundAFFECTs: writing, new media, politics, affect", at the CongressCath conference, National Museum of Photography, Film and Television, Bradford, UK, and at the UK network for Modern Fiction Studies, University of Westminster, UK. Our work soundAFFECTs, a DVD piece, was also shown at the National Film and Television Museum, Bradford during the Congress CATH.
Roger Dean has a new release (2005), recorded 1975, on Cuneiform Records USA. Their release Rune 213/213 (double cd) is Graham Collier's Workpoints, in which one CD is the piece 'Workpoints' (and other items) recorded 1968; while the other CD, 'Live in Middleheim', is Graham's Darius suite, and three other pieces, with Roger playing piano and electric piano with Harry Beckett, Art Themen, Ed Speight, Collier on bass, and John Webb (drums). As the CD sleeve bills it :"Two concerts from a golden age of British Jazz".
Kinetic Energy, adventurous theatre/dance/multimedia performance ensemble, presened their SHAKE-SPEARE (with sound by austraLYSIS' Roger Dean) in Sydney on 15-17 April 2005(part 1), and 22-24 April, 19.30 at St Lukes Hall, Enmore (bookings 02 9747 1402). The production is due in Utrecht (June 2005) for the European Shakespeare Conference (see below for its previous appearances). They also present Who Dies in September 2005 in Sydney.
austraLYSIS work at the electronic/acoustic interface was represented at Sound Art, an event promoted by the Canberra Contermporary Art Space, at Kingston Foreshore Space, on Friday 1 April 2005. A mix of the acoustic piano performance (20050213) mentioned below, but containing the segments only heard then by earphone by the performer, was used as the basis for digital processing, as well as being heard unaltered simultatenously, in a solo performance by Dean. This was also recorded as part of the 'solo piano' project.
austraLYSIS' efforts are analysed in their political and practical context by Roger Dean and Hazel Smith in the first issue for 2005 of Sounds Australian, in an article entitled 'The evolving technology of performance in the work of austraLYSIS, and the politics of co-operativity', Volume 65. This and four other articles from the issue are freely available online at the Australian Music Centre (for download as pdf). An independent article consists of interviews with austraLYSIS members Sandy Evans, and Daryl Pratt, and collaborator Margery Smith.
austraLYSIS are well represented on the MusicAustralia, a newly released on-line service of the National Library. At the launch, March 14 2005, some austraLYSIS work was included in the sound anthology which accompanied the celebration. austraLYSIS work is also available through the Electronic Literature Organisation. Search there particularly for Hazel Smith and Roger Dean (see the directory), to find some of our text and sound works available on line.
Roger Dean played solo piano improvisations at the ACT Multicultural Festival in MusiCMagic on Saturday 12 and Sunday 13 Februrary 2005, at the Canberra Museum and Gallery (gallery 2/3). The performances were throughout the day, given by staff, students (and friends!) of the Canberra School of Music. Roger's performances were at 15.30 each day, and each comprised a 30 minute set, totally different on each occasion. They were part of a project to record Alone-Separate-Together/Coalesce, a cd album of piano, two piano, and processed piano improvisations; the occasion was recorded by Greg White, and the second performance used edited playback of the first, to the performer (but not to the audience, to create an unusual response situation).
Roger Dean presented on the future of music production and cognition research on 27 January 2005 at the ARC Human Communication Sciences Network inaugural workshop, held at the University of Western Sydney. austraLYSIS has a new cd in production (2005) by Tall Poppies: featuring Memeing ex Cathedra, and PianoStones.
Eminent composer, sound artist, pioneer of sound spatialisation David Worrall became a member of austraLYSIS in late 2004 (see his biog). He had collaborated with Dean and Greg White earlier in the year on the sonification we presented at ICAD (see below). Together with Mitchell Whitelaw (fellow member of the Sonic Communications Research Group at the University of Canberra, with Dean), David edited Volume 9 #2 of the international journal of music technology 'Organised Sound'. The issue focuses on 'Complex systems in composition and improvisation', and there is an editorial by David.
'Bodies Mind', a new work developed from the ICAD selected sonification 'Mind your Body' (see below), was produced by Roger Dean and presented at the Electronic Music Foundation 'Symposium on the Future' at Chelsea Art Museum, December 6 2004, New York City, in a group of so called 'N-Sounds'. See the Electronic Music Foundation web site.Roger Dean was elected a Fellow of the Australian Academy of the Humanities in November 2004. The Academy is established by Royal Charter and is one of the four learned academies in Australia.
Roger Dean played keyboards with the Graham Collier Celebration Band at the London Jazz Festival, November 17th, 2004 19.30, Purcell Room, South Bank London, and at the City of Birmingham Symphony Orchestra Centre, Birmingham, November 13th. A BBC broadcast and recording for cd were included. The band featured long-standing Collier associates, such as Art Themen (saxes), Harry Beckett (trumpet), Ed Speight (guitar) and Dean; together with newer colleagues. The musicians came from Spain, Italy, Australia, and the UK. Broadcasts on BBC Radio 3's 'Jazz on 3' and 'Performance on 3' were made in early December 2004. As John Fordham reported in the Guardian (2004.11.19), 'The Vonetta Factor contrasted a brooding drum tattoo, [and] a brain-jangling burst of electronics from keyboardist Roger Dean....' This piece was the centre of a Performance on 3 broadcast on BBC Radio 3, on 1 December 2004.
'Beyond the Notes' , a fascinating book by pianist Susan Tomes (Florestan Trio, Domus) was published by Boydell in late 2004. It includes reference to collaboration in 1981 with LYSIS members Ashley Brown and Roger Dean; and a renewal of contact with Dean in 2001 during a Florestan visit to Australia and New Zealand.
austraLYSIS made a studio recording for the ABC on 8 November, 2004: the program from this recording is documented here as pdf. The broadcast has yet to be scheduled, and it is planned that Roger Dean will be interviewed in conjunction with it.
austraLYSIS at the Sydney Conservatorium of Music on the evening of October 2, 2004, in the New Music Network series; the event called Jazz in 5D, and the word jazz is used very broadly, though not irreverently. The handbill is here as pdf. The full program notes are here as pdf. John Shand, in the Sydney Morning Hearld (2004.10.05) commented very positively, that 'Dean and his austraLYSIS colleagues continue to push the parameters of music and multi-media while also probing the nature of performance art. ... Every nuance of this performance. ... was brought to life by a superb quadraphonic sound system. ... The opening soundAFFECTS had thrilling rushes of electonics as Dean and White manipulated pre-recorded snippets of text. ... the communication was intense when Hazel Smith read her poem The Architecture of Gentleness.' Of the piece Silent Exchange he wrote ... :'this intensively interactive improvising had sounds swirling about the room, shattered by sudden blasks akin to unexpected low-flying aircraft.' Of the Improvising Space : 'the horns splicing through flurries of piano notes with sounds as vibrant as the emotion was anguished'. 'Finally, Smith read an entertaining text about the perfomer-audience relationship, which was then manipulated by Dean and White and fired about the room like ricocheting bullets to magical, disorienting effect. "
In October 2004 the peer-reviewed journal Text (vol 8, number 2) released an article on our sound and text web-piece soundAFFECTS, by Hazel Smith. The web-version of the piece is released on their site also. From this address, the piece streams; from the contents page of the issue, you may have to wait for a full download! A video version has been presented (see below) and is planned for later release on DVD.
'Sonification and Segmentation: the beginnings of a project' presented by Roger Dean at the AMPS series, MARCS Auditory Labs, University of Western Sydney, Bankstown Campus, Friday 24th September at 17.00. In July 2004 Hazel Smith gave a poetry reading at the Contemporary Writing Environments conference at Brunel University, UK.
She also gave a performance and multimedia presentation as part of "Spelt#3", one of a series of events featuring experimental writing (with a bias towards performance and multimedia) curated by Caroline Bergvall at The Horse Hospital, London.
'Min(d)ing the Body' was the title of a seminar given by Roger Dean at the Sonic Connections 2004 conference at the University of Wollongong (September 10-11), and concerning sonification and the austraLYSIS work 'Mind the Body', mentioned below.
The National Library's PANDORA, an archive of Australian 'documentary heritage' from August 2004 includes this austraLYSIS website
In August 2004 Roger Dean joined the Editorial Advisory board of the new journal Critical Studies in Improvisation, based at the University of Guelph, Canada, and edited by Ajay Heble, Professor in the School of English and Theatre studies there. He also joined the program advisory group for the 2005 conference of the Asia Pacific Society for the Cognitive Sciences of Music, to be held in Korea.
In July 2004 Hazel Smith presented a poetry reading at the Contemporary Writing Environments conference at Brunel University, UK, and a talk on 'The Erotics of Gossip: fictocriticism, performativity, technology'. She also gave a performance and multimedia presentation as part of "Spelt#3", one of a series of events featuring experimental writing (with a bias towards performance and multimedia) curated by Caroline Bergvall at The Horse Hospital, London. Works shown and performed included soundAFFECTs and the writer, the performer, the program, the madwoman.
At the International Musicological Society symposium, Melbourne, July 16 2004: Roger Dean spoke on digital infrastructure for music and music research, and gave a closing address for the conference, on prospects for musicology and humanities research more broadly.
'Mind your Body', a sonification/audio work by austraLYSIS' Dean and White, members of the Sonic Communications Research Group at the University of Canberra, together with David Worrall, also of that group, was heard in a concert at the Studio of the Sydney Opera House, on July 8 2004, using a 16 channel spatialisation system for which the work was composed. It has been selected with 9 other works from a call for submissions made by the 10th International Conference on Auditory Display, which this year takes place in Sydney from 6-9 July 2004. The concert was called 'Listening to the Mind Listening'; tickets from the Opera House on + 61 2 9250 7777 or by the web.The ICAD website contains an mp3 audio representation of this work, together with a brief paper discussing it. The piece was programmed also at the Sydney Conservatorium of Music, October 2, 2004, and twice at the Uni of Wollongong 'Sonic Connections' festival, September 10/11 2004, in the sound spatialisation dome of David Worrall, with a 15.1 speaker system.
Jim Denley published a detailed discussion of the What is Music? festival, in its 10th year: the leading (certainly 'largest') festival of experimental musics in Australia. Dean, Smith, White and austraLYSIS have all been recurrent contributors to this in Sydney, and more recently in Canberra. and were duly documented. See : Sounds Australian 63 (2004), pp42-45.
Roger Dean wrote the new music for 'Shake-Speare' Part 2, a new work by Kinetic Energy Theatre Company, premiered on June 27 2004 at St Lukes Hall, Enmore, Sydney (19.30). Part 1 (also with music by Dean) was presented on 26June. Other performances were on July 1-4, 8-11. Contact + 61 2 9747 1402, or kineticenergy@iprimus.com.au. 'an exploration of the plays and poems of William Shakespeare from the perspective of the life of Edward de Vere... who has a widely accepted claim to being Shakespeare'. The production will be shown at Newcastle University, Australia, (Part 1 Friday August 27 2004, Part 2, 28th, each starting at 19.30, at ImaginedARTS, on the Ourimbah Campus.It will also show at the Shakespeare Fellowship Annual conference in Baltimore, USA, the University of East Anglia, Norwich, UK, and the University of Glamorgan, Wales, in September/October 2004.
Hazel Smith's text the writer, the performer, the program, the madwoman has been published in June 2004 by the US journal of writing How2, together with a stereo version of the multichannel audio performance work of the same name, in collaboration with Roger Dean and austraLYSIS.
Mitchell Whitelaw's stimulating new book 'Metacreation: Art and Artificial Life' (MIT Press, 2004) was launched at the National Gallery of Australia on 29 May 2004, with introductory remarks by Roger Dean.
austraLYSIS and the austraLYSIS Electroband appeared in Brisbane for several events between April 22-25 2004, including performances and workshops in association with the University of Queensland, Queensland Conservatorium of Music (Griffith University), University of Canberra Brisbane Campus, the Queensland University of Technology and the Small Black Box, presenting sound and intermedia works by Dean, Smith, White, together with computer-interactive sonic improvisation. austraLYSIS members appearing were Roger Dean, Sandy Evans, Phil Slater, Hazel Smith and Greg White.
Roger Dean and Hazel Smith, together with Dr Kate Stevens of the University of Western Sydney, recently received major research funding from the Australian Research Council, for a project on the computational generation of large scale musical structures, and its use in investigating the cognitive accessibility of such structures. Understanding of cognitive accessibility will then permit approaches to determining relationships between structure, process, and affective responses. The project runs from 2004-2006 inclusive, and is based in the new Sonic Communications Research Group (lead by Dean and Smith) at the University of Canberra. Dr Freya Bailes, a British researcher currently working in the US, joins this project in October 2004 as Post-Doctoral fellow.
Sound work by austraLYSIS member Greg White is comprised within the film "I Was Robert Mitchum", first presented at the Sydney Film Festival: ABC TV broadcast this on Sunday April 4, 2004.
austraLYSIS (comprising Roger Dean and Greg White) appeared in VIS(I)ONICS, ' Radikal New Sounds by Visionary Sonic Guerrillas', featuring Robin Fox and Anthony Pateras, and colleagues from Canberra, at the ANU Arts Centre, Thursday April 1st 2004. austraLYSIS presented piano, processing and digital laptop improvisation.
austraLYSIS appeared at a Bimbimbie multimedia performance event at the University of Canberra, ACT 2601, Thursday 4th March, 2004, at 20.30. This was a free event, by invitation, organised and supported by austraLYSIS and the University. Ranulph Glanville (visiting artist from UK), presented his "Generator", and a short and challenging sound piece from 1967, available on the Leonardo Music Journal cd of English Experimental Music; David Worrall presented a major soundwork; and austraLYSIS, comprising Roger Dean, Hazel Smith and Greg White, presented soundAFFECTS (video and sound, involving text), and the writer, the performer, the program, the madwoman (text and computer interactive-sound performance piece by the three performers).
A one hour interview (by Bill Oaks) with Roger Dean, about his musical work, was recorded and broadcast on the Canberra radio station ArtSound FM in February 2004.